Can you Believe it?!
That time has come again and with what feels like just the snap of our fingers it is fall. Our construction season hasn't slowed down just yet but we wanted to take you back through some of the projects that the team here at Joel Loblaw Inc. worked so hard to complete this past summer. We wrapped up some great jobs with wonderful clients. Here are some snaps of just a few!
---
Party in the Front
Last year we completed the backyard of this modern reno and this year we kicked off the season by completing the front yard. Weathering steel is used as a feature material and a bold sloped lawn calls you to sit on it and watch the street. This front yard definitely warrants a double take as you pass by. Keep your eyes peeled for some professional shots of this property coming to the website soon (and just wait until you see the backyard too!).
---
Modern Twist
This Roncesvalles renovation was beautifully designed and we were excited to compliment it with our landscape. The backyard is an intimate space for entertaining and the front yard packs a punch with a lush mass of carex sedge and a dark wood feature wall that doubles perfectly as a bench.
---
Made to Entertain
Warm cedar sets the tone for this large but cozy outdoor space that is perfect for entertaining. The upper bar is perfect for drinks and barbecuing before you descend down to the lower deck for dining and lounging.
---
Formal Front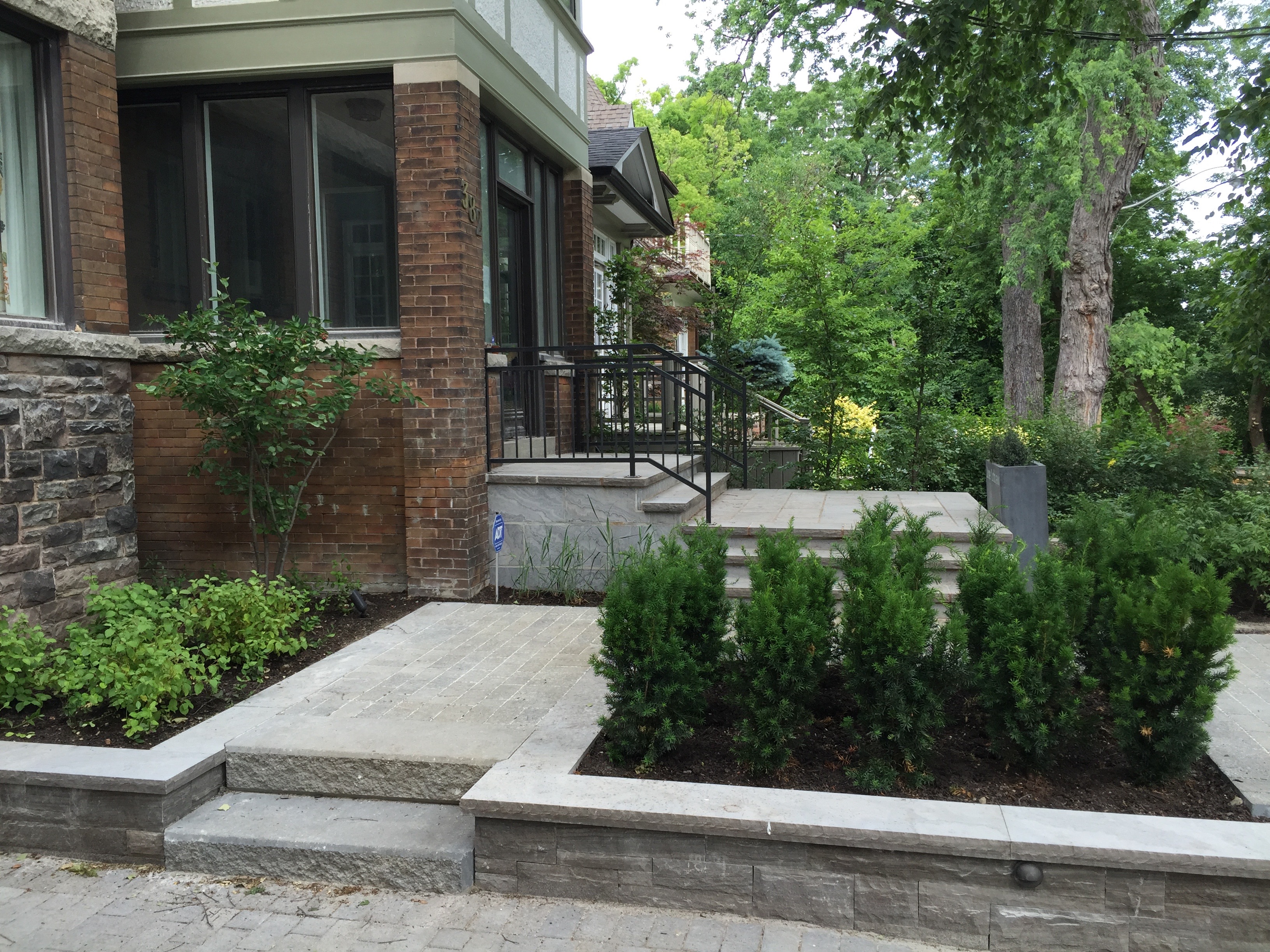 This beautifully shaded front yard got a transformation that included new retaining walls and the addition of a formal front walkway and porch. Our crews spent weeks hand chipping the stone for the beautiful natural stone retaining walls. We think the result looks pretty great! Do you agree?